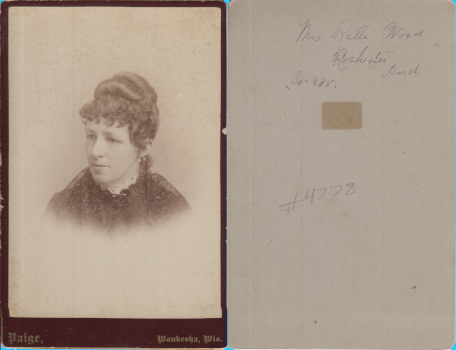 ---
STATUS: AVAILABLE - $10.00 + SHIPPING
---
---
PHOTOGRAPH INFORMATION
NAME(S): Mrs. Belle Wood
PHOTOGRAPH: # 4778
OTHER INFO: Box 288, Rochester, Ind
PHOTOGRAPHER: Paige, Wankesha, Wisconsin
CARD SIZE: 10.7 cm x 16.4 cm
WHERE PURCHASED: San Antonio, Texas
WHEN PURCHESED: February 8, 2020
---
RESEARCHED INFORMATION

Possibly: Isabelle Trimble
Born: December 18, 1846, Fulton County, Indiana
Died: October 20, 1921, Rochester, Fulton County, Indiana
Father: William Sterrett Trimble
Mother: Elizabeth "Besty" Black
Married: William Wood, January 17, 1872, Fulton County, Indiana
Children:
---
NOTES
I have listed this as "Possibly" due to the address written on the rear of photograph. I do not know if she
visited Wisconson and had the photograph mailed back to her or if someone mailed their photograph to
her. I would think if the latter that they would have also written their name on the rear to identify themselves.
I cannot find that any of her siblings lived in Wisconsin at any time. Therefore I am not 100% this is her.
---
SOURCES
1850 Census Rochester, Fulton County, Indiana
1860 Census Rochester, Fulton County, Indiana
1900 Census Rochester, Fulton County, Indiana
1910 Census Rochester Ward 2, Fulton County, Indiana
Indiana, Death Certificate
FindAGrave.com