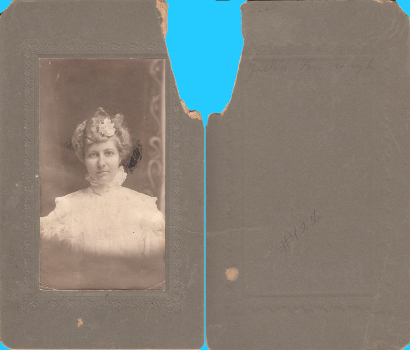 ---
STATUS: AVAILABLE - $10.00 + SHIPPING
---
---
PHOTOGRAPH INFORMATION
NAME(S): Julia Fambrough
PHOTOGRAPH: # 4236
OTHER INFO: None
PHOTOGRAPHER: Unknown
CARD SIZE: 12.6 cm x 21.5 cm
WHERE PURCHASED: Falls Church, Virginia
WHEN PURCHESED: June 16, 2018
---
RESEARCHED INFORMATION

Possibly: Julia Elizabeth Fambrough
Born: December 24, 1878, Walton County, Georgia
Died: March 21, 1961, Macon County, Georgia
Father: Andrew Thomas Fambrough
Mother: Augusta Elizabeth Fambrough (Actual Maiden name)
Married 1st: Andrew Clarence Fambrough, August 28, 1898, Walton County, Georgia
Children: Leslie Thomas, Mattie Jewel, Claude William, Clarance M., & Maye
Married 2nd: James Jasse Carpenter
Children:
---
NOTES
There were 4 Julia Fambroughs that I considered. Considering the probable time frame for the type
of photograph being somewhere between 1900 to 1915 and the age of the person in the photograph
I eliminated the Julia born around 1824. Two of the other Julias I found photographs of online and
they definate were not the person in the photograph. This left me with the Julia Elizabeth Fambrough
listed to the right. Since it is possible I might have missed one I listed her as "Possibly:.
---
SOURCES
1910 Census Justice Precinct 1, Sutton County, Texas
1940 Census San Angelo, Tom Green County, Texas
1941 San Angelo, Texas, City Directory
1942 San Angelo, Texas, City Directory
1944 San Angelo, Texas, City Directory
1946 San Angelo, Texas, City Directory
1949 San Angelo, Texas, City Directory
1950 San Angelo, Texas, City Directory
1952 San Angelo, Texas, City Directory
1954 San Angelo, Texas, City Directory
1956 San Angelo, Texas, City Directory
Georgia, Marriage Records From Select Counties
Georgia, Death Index
FindAGrave.com