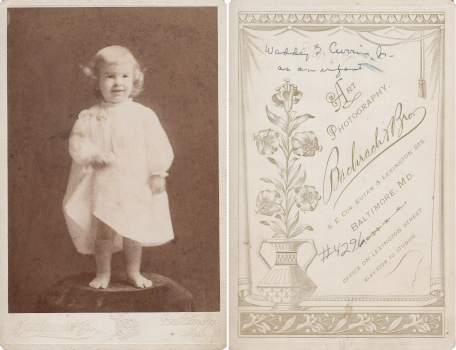 ---
STATUS: AVAILABLE - $10.00 + SHIPPING
---
---
PHOTOGRAPH INFORMATION
NAME(S): Waddy G. Currin Jr.
PHOTOGRAPH: # 4296
OTHER INFO: as an infant
PHOTOGRAPHER: Bachrach & Bro., Baltimore, Maryland
CARD SIZE: 10.8 cm x 16.6 cm
WHERE PURCHASED: Abingdon, Virginia
WHEN PURCHESED: June 19, 2018
---
RESEARCHED INFORMATION

Probably: Waddy George Currin Jr.
Born:
May 1889, Baltimore, Maryland
Died:
April 19, 1913, Hamilton, Butler County, Ohio
Father:
Waddy George Currin
Mother:
Katherine Agnes Sharkey
Married:
Children:
---
NOTES
W. G. Currin, Jr., Calvert Hall Graduate, Loses His Life in Ohio
Struck by a wooden pile which had fallen from a crane, Waddy G. Currin, Jr., 22 years old, son of
Mr. and Mrs. W. G. Currin, 1427 Edmonson Avenue, was killed at 2 o'clock Saturday afternoon on a
bridge which was being constructed by the Baltimore and Ohio Railroad Company in Hamilton, Ohio.
Currin had been in the construction department of the company for five years and his ambition was
to become a civil engineer. He intended going to a technological school to complete his education.
A telegram announcing the death of their son was received by Mr. and
Mrs. Currin late Saturday night. Few details were related, but it is understood that Mr. Currin was standing
beside Chief Engineer Curtis of the Chicago division of the construction department, when the crane broke
releasing a heavy pile which it was carving a few feet above the heads of those on the bridge. Curtis
escaped injury, while Currin was probably killed instantly, his body being thrown into the river. The body
was recovered later and sent to Baltimore.
In 1907 Currin graduated with honors from Calvert Hall College. He served two years with the railroad
company at the main offices before being sent on the road.
Besides his parents, he is survived by two sisters, Misses Annie S. and Ada B. Currin, and two brothers,
John A. and Joseph Lynch Currin.
The funeral will be held at 8:30 o'clock tomorrow morning from St. Pius Catholic Church. Services will be
conducted by Rev. John Dunn, the pastor.
---
SOURCES
1900 Census Baltimore Ward 20, Baltimore City (Independent City), Maryland
1908 Baltimore, Maryland, City Directory
1910 Baltimore, Maryland, City Directory
1912 Baltimore, Maryland, City Directory
FindAGrave.com