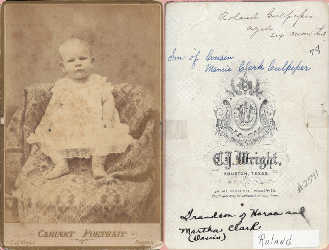 ---
STATUS: AVAILABLE - $10.00 + SHIPPING
---
---
PHOTOGRAPH INFORMATION
NAME(S): Roland Culpeper
PHOTOGRAPH: # 2541
OTHER INFO: aged six months, '78
Son of Mamie Clark Culpeper
Grandson of Horace and Martha (Davis) Clark
PHOTOGRAPHER: C. J. Wright, Houston, Texas
CARD SIZE: 10.8 cm x 16.6 cm
WHERE PURCHASED: Denison, Texas
WHEN PURCHESED: June 10, 2013
---
RESEARCHED INFORMATION

Probably:
Roland Culpepper
Born:
Abt 1878
Died:
Probably before 1880 census
Father:
Roland Hill Culpepper
Mother:
Mary Katherine "Mamie" Clark ("Mamie" is nickname for Mary)
Married:
Children:
---
NOTES
Here is my thinking for believing this Roland Culpepper is the son of Roland Hill
and Mary Katherine (Clark) Culpepper.
1) In the 1900 census for Houston, Texas listed below Mary Culpepper is listed as being
the mother of 4 children of which only 3 are living.
2) The child in the photograph above appears to be to young to be sitting up on
its own. I believe this may be a post-mortum photographs which was very
common when a child died to have something to remember them by.
3) Roland is not listed with the family in the 1880 census for Houston, Texas which
would indicate that he had probably died prior to the census. He is listed as 6 months
old in 1878 on the back of the photograph.
4) Roland is listed as the grandson of Horace Clark on the back of the photograph.
Horace Clark is living with Mary K. Culpepper and listed as her father on the 1900 census.
---
SOURCES
1880 Census Houston, Texas
1900 Census Houston, Texas
Harris County, Texas Death Record (for mother)
Harris County, Texas Death Record (for sister) (Lists father's full name)
Harris and Garrison Family Tree on Ancestry.com