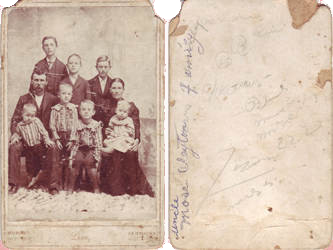 ---
STATUS: REUNITED WITH FAMILY
---
---
PHOTOGRAPH INFORMATION
NAME(S): Mose Clayton Family
PHOTOGRAPH: # 1305
OTHER INFO: Some scribbling in pencil
PHOTOGRAPHER: Love, Murray, Kentucky
CARD SIZE: 10.75 cm x 16.5 cm
WHERE PURCHASED: Shreveport, Louisianna
WHEN PURCHESED: August 9, 2008
---
RESEARCHED INFORMATION

Probably:
Robert Moses Clayton
Born:
December 16, 1858, Tennessee
Died:
December 25, 1943, Henry County, Tennessee
Father:
John Clayton
Mother:
Sarah Hutchens
Married:
Margaret Matilda Ann Wilson, 1889, Henry County, Tennessee
Children:
Leonard Bunyan, John Elisha, Charles Brent, Richard Naylor, Tronie B.,
Albert Thomas, C. Chalmous, Marshall Mose, Tollie Mason, & Ervin
---
NOTES
My reasoning that this is Robert Moses Clayton's family is that the photograph was taken in Murray, Kentucky
which is probably about 5 miles from the Henry County, Tennessee border. As can be seen in the photograph
at least the first five children are male. This is the only Moses Clayton I can find where this is the case.
---
SOURCES
Descendants of Thomas Hutchens