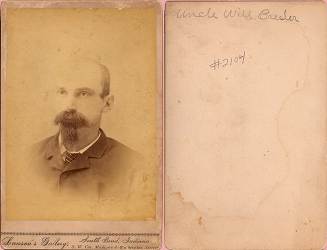 ---
STATUS: AVAILABLE - $10.00 + SHIPPING
---
---
PHOTOGRAPH INFORMATION
NAME(S): Will Bresler
PHOTOGRAPH: # 2104
OTHER INFO: Uncle
PHOTOGRAPHER: Lawson's Gallery, South Bend, Indiana
CARD SIZE: 10.75 cm x 16.5 cm
WHERE PURCHASED: Springfield, Missouri
WHEN PURCHESED: June 9, 2012
---
RESEARCHED INFORMATION

Probably:
William Bressler
Born:
April 1851, Pennsylvania
Died:
Between 1920 and 1930
Father:
Daniel Bresler
Mother:
Rebecca
Married:
Mary Fredricka
Children:
"William Jr."?, Walter H., & Clarence D.
---
NOTES
Click
HERE
for photograph of his wife Rebecca
1930 Cesus for Walter Bressler has Fredricka Bressler living with him listed as his "Mother".
I think the 1900 Census listing as Mary L. has the initial "L" as an error.
1900 Census Walter has same birth date as William Jr. in 1880
1880 Census William Jr. is 1 mo. old & name is in "quotation marks", possibly not actually named yet?
---
SOURCES
1880 Census South Bend, St. Joseph County, Indiana
1900 Census South Bend, St. Joseph County, Indiana
1910 Census South Bend, St. Joseph County, Indiana
1920 Census South Bend, St. Joseph County, Indiana
1930 Census South Bend, St. Joseph County, Indiana