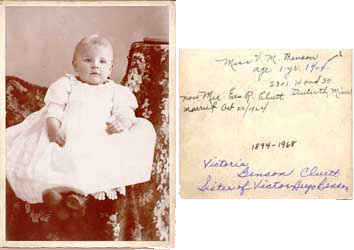 ---
STATUS: AVAILABLE - $10.00 + SHIPPING
---
---
PHOTOGRAPH INFORMATION
NAME(S): Victoria M. (Benson) Cluett
PHOTOGRAPH: # 159
OTHER INFO: age 1 yr. 1904
2301 w. 2nd St., Duluth, Minn.
Now Mrs Edw. R. Cluett
Married Oct. 22, 1924
1894 - 1968
Sister of Victor Hugo Benson
PHOTOGRAPHER: Unknown
CARD SIZE: 10.5 cm x 14.75 cm
WHERE PURCHASED: St. Joseph, Illinois
WHEN PURCHESED: January 31, 2003
---
RESEARCHED INFORMATION

Probably:
Victoria Marie Benson
Born:
May 12, 1894
Died:
December 31, 1968, Hennepin Co., Minnesota
Father:
Charles Benson
Mother:
Annie Sandberg
Married:
Children:
---
NOTES
Info from Louise Benson Griffin
Victoria Marie Benson was born in Duluth, Minnesota, in 1894, not 1904, as Is written on the photo's back. Victoria did not
like being the eldest in the family of six children, nor did she like being older than her husband, Eddie Cluett, by more than
five years, so she "changed" her date of birth. My father was born in 1897, and she preferred to be known as his younger
sister. She died in Minneapolis in 1943.


---
SOURCES
1900 Census St. Louis Co., Minnesota
Minnesota Death Index, 1908-2002
Family